Athesinus Consort Berlin
432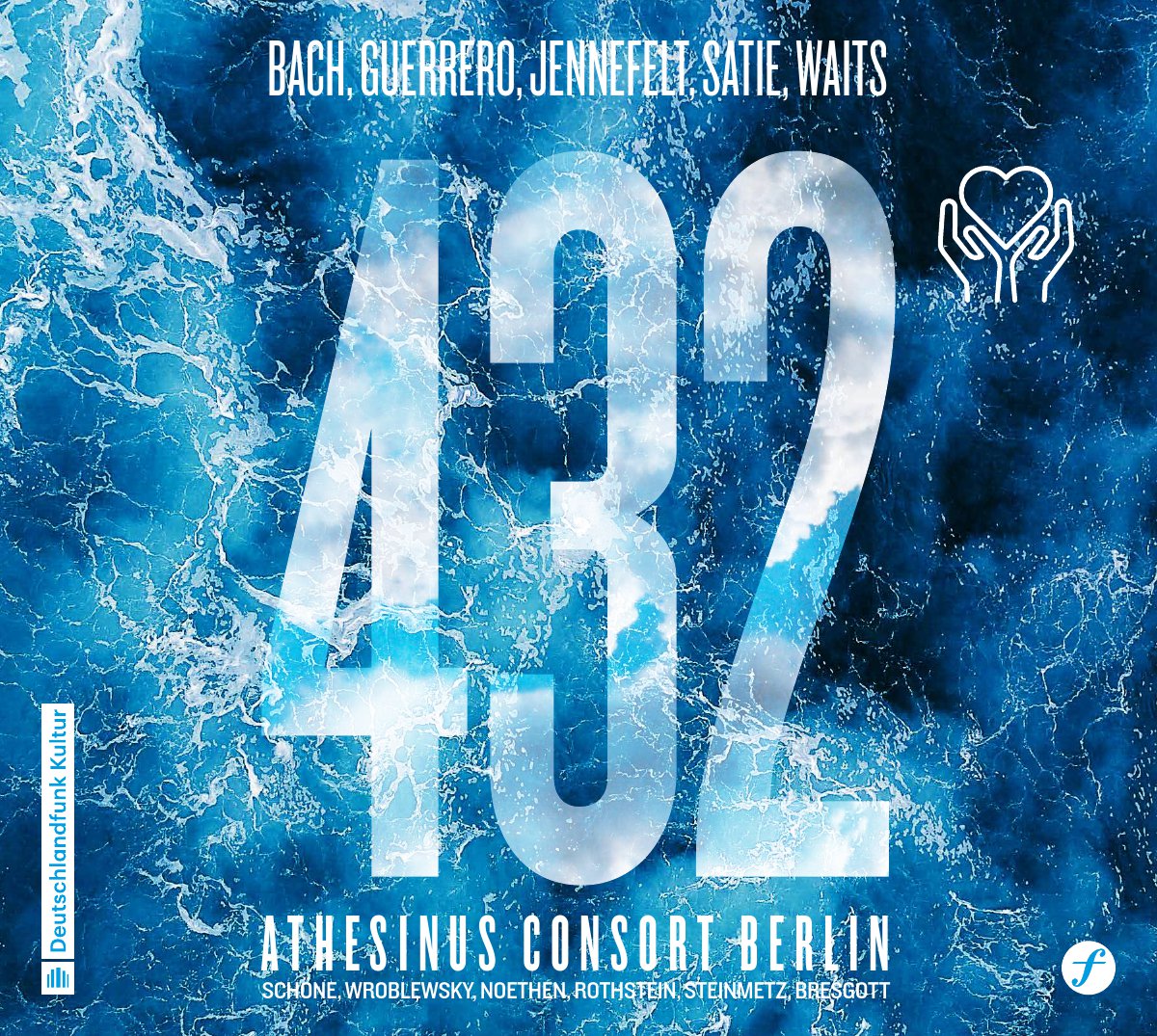 Yes: It is uncommon to reduce an CD album's title to one number without giving instantly an idea of its unambiguous attribution such as, for example, 24/7. For this album the number of 432 is a potent synonym in multiple ways: a modified way of making music, a fresh perspective on the Athesinus Consort's repertoire and its intention to bring both of these aspects together. But first of all, 432 stands for the 432 Hz tuning as a reference, a quarter tone below the commonly practiced tuning of 440 Hz. 432 Hz was used not only by Wolfgang Amadeus Mozart, Giuseppe Verdi, Rudolf Steiner, Albert Schweitzer or Nicolaus Harnoncourt, but is also promoted today by notable Neuroscientists for playing a substantial role in the human's inner balance and being in harmony with oneself and the world. This follows a trail that already Pythagoras and Plato suggested who treasured this frequency as a way to bond in a resonant way with the vibrations of the earth. Simply put: Good vibrations!
With this, the Athesinus Consort Berlin has embarked on a different form – a concept album – with which it breaks new ground (Schöne, Steinmetz, Jennefelt, Batson, Waits) and encounters the old familiar (Arcadelt, Guerrero, Bach, Purcell, Satie) in a transformed way. It is the song of one day – framed by a morning and an evening song, by the rooster in the morning and the nightingale at night – with sounds from times past for the time being. What they all have in common is a new or deliberately absent text, a combination of associations – for example in the "Fischlein- Magnificat" or "Heightened Creativity – a Swan" – and the desire for being moved and inspired, which is the beginning of all singing and listening. This is particularly represented in a new genre, the baroque waltz rap, which begins with an "opening", an open invitation – to you!

Athesinus Consort Berlin was founded by Klaus-Martin Bresgott in 1992 as a result of his on-going devotion to classical music. From soloist to double quartet formation, the Ensemble primarily performs works from the late renaissance and baroque periods a-cappella or with instrumental accompaniment . In addition they perform modern works which have led to regular premiere performances. The members who are experienced concert singers who work with RIAS-Chamber Choir, Collegium Vocale Gent, SWR Vokalensemble and Balthasar-Neumann-Choir (among others) work together in different arrangements depending on the selected work. Together with the pantomime Klaus Franz and the sound virtuoso Michael Metzler, Athesinus Consort undertook diverse excursions following the trail of time through its fluid and frozen form. Following a successful performance on the musical theater stage with "Paulus. Das ängstliche Harren der Kreatur" (Music: Thomas Jennefelt | Libretto: Christian Lehnert | Direction: Annette Kuß), the Athesinus Consort begins 2012/2013 with "Hidden Meanings of Forgotten Verses" taken from the wondrous core of German song tradition and the protestant chorales in unusual arrangements. Athesinus Consort Berlin performs in a variety of concerts. They are regular guests in Berlin, Brandenburg, Mecklenburg, and Lower Saxony. In addition they have invitations from all over Germany. Concerts abroad have led them to England, France, Austria as well as several times to Italy, Denmark, and Switzerland.